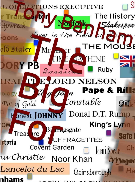 It wasn't much of a summer for the British Ministry of Defence. Having finally admitted that they could no longer afford those nice big shiny American jets to move their people about, they had relied on good old British ingenuity to create a matter transporter. Unfortunately the computer hadn't properly understood the term VIP (Virtual Insertion Pioneers)... The very first test had accidentally delivered them a dozen British VIPs from the entire span of the country's history, and they couldn't figure out how to send them back. So Queen Victoria, William Shakespeare, Sir Winston Churchill and the other nine were temporarily resident in a safe house (the Sea View Bed and Breakfast) just across the street from the Browns - whose two kids were having a really boring summer holiday.
The two groups would never have had much to do with each other if it hadn't been for the Browns' American cousins staying at their British father's farm. When they phoned to invite the Brown kids over and they ended up digging an ancient horse skeleton from a deep drainage ditch, they thought this would be the most exciting part of the summer. They were wrong. It was part of something much, much bigger, and only with the help of these twelve historical personages (and their unique skills) would the four cousins have any hope of preventing the ruthless multinational company Pape & Rillage Incorporated from ripping apart an essential part of British history.
e Grading on a Curve.